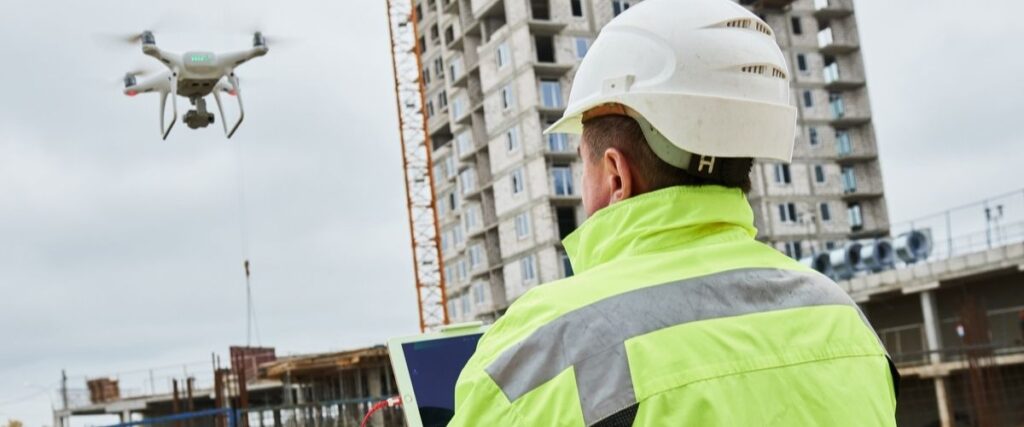 Innovation has always been at the forefront of the construction industry, but it's now evolving at a much faster pace. Construction technology enables us to design and build in ways that are safer and more efficient, and in some ways, more complex. Whether it's a tool or software program, we must continue to find new ways to advance our systems and processes. More importantly, everyone in the industry should be adapting to embrace these tools in every facet of construction.
What types of construction technology are becoming popular?
As we look at some of the breakthrough construction technology tools, there's a lot to consider. Here are a few of the most popular construction technology examples that are changing the way we do business.
1. Drones
One of the most diverse construction technology trends is the use of drones. These can be used in a variety of ways, from site inspections to progress updates. Because they can safely navigate over dangerous situations, they can be used to evaluate certain situations involving uneven terrain or aging infrastructure. By using photo and video capability, they can also help teams stay informed on daily work conditions and progress.
2. Site Sensors
Maintaining a safe construction site is at the core of any contractor's job. Site sensors make it easy to ensure certain standards are being met. From noise levels to temperature, and even exposure to certain hazardous materials or compounds, these sensors alert you of certain risks. This makes it easier to ensure OSHA compliance and a safe environment for crews.
3. Wearables
Along the same lines as site sensors, wearable construction technology helps protect each worker on a job site. These sensors and detectors can even be embedded into hard hats and other protective gear. Some are used to protect your workers and notify them about skin temperature or heart rate. Others are used for voltage detection or even geofencing to establish dangerous areas that are restricted to workers.
4. Augmented Reality (AR)
Design is evolving due to construction technology advancements. While pen and paper can still go a long way, the benefits of AR and other visualization tools are unmatched. This type of design tool allows for advanced planning and better outcomes due to more detailed drafts. A 360-degree video helps clients envision architectural elements that are crucial to making design decisions.
5. Offsite Construction
Many commercial construction buildings involve repetitive floor plans. From hospital rooms to apartments and schools, these types of projects often involve a formulaic approach. Offsite construction is incredibly beneficial in these cases. Not only does it reduce waste, embracing a more sustainable approach, it also makes way for more productive timelines. Both modular and prefabricated offsite construction enables a streamlined approach to building.
6. Robotic Equipment
Robots are being used to enhance the building process, rather than replace workers. Simple, repetitive tasks can be assigned to a robot to accelerate the timeline of a task. For example, using robotic equipment to lay bricks is a great way to get the job done quicker. Because robots don't need breaks, this repetitive task can be executed more quickly. That said, the presence of your workers is still required to ensure correct placement and clean up mortar and other materials.
7. Autonomous Heavy Equipment
Much like self-driving cars, autonomy is possible even when it comes to heavy equipment. Why use manpower to operate an excavator when construction technology can get the job done? Sensors and GPS capability help these machines navigate a job site to achieve the end result with accuracy. As the industry continues to hire younger workers who are adept at using technology, operating these types of systems will only become easier and more useful.
Perrier Esquerre Contractors: The Future of Construction
The benefits of adopting new and innovative construction technology techniques can't be overstated. As more firms embrace these changes, the rewards become clearer. Implementing construction technology techniques only leads to better productivity, which can result in more projects that are completed on time and under budget.
At Perrier Esquerré Contractors, we believe in the positive impact of construction technology. Our team continues to embrace new developments in this area as we strive to be more productive. To discuss your commercial project, contact our team today.