The Gulf South is no stranger to wild weather. By the time summer's steamy heat gives way to the height of hurricane season in September, we've already seen our share of torrential downpours and dramatic floods. When is the best time to think about hurricane preparedness? Before a storm is bearing down. Here's how Perrier Esquerré Contractors can help you get your home and business ready.
How Do You Prepare Your House For A Hurricane?
Hurricane preparedness literally begins at home, months before the news starts tracking hurricane movement across the Gulf.
The first step is to know your evacuation route. If a storm takes an unexpected turn and suddenly heads your way, you might need to get out with only a few minutes' notice. The last thing you need is to get lost trying to get out of a hurricane's path.
With your evacuation route planned, here are the other essential parts of hurricane preparedness for your home.
Bring in all outdoor furniture and anything else that the wind could carry away
Gather important papers in a central, easy-to-access place (e.g., insurance documents)
Consider investing in hurricane shutters or board your windows
Make sure all cell phones and computers are fully charged
Unplug all appliances and machines inside the home
If you have a gas-powered generator, make sure the tank is full
Above all, keep in mind that if an evacuation is ordered, it's crucial that you leave if possible. Prep your home, gather your family and pets, and move quickly to your designated safe area.
For more on how to prepare your home — including suggestions for supplies — visit Ready, the government's website for disaster preparedness. The U.S. Centers for Disease Control and Prevention (CDC) has some great resources, too.
How Do You Prepare Your Business For A Hurricane?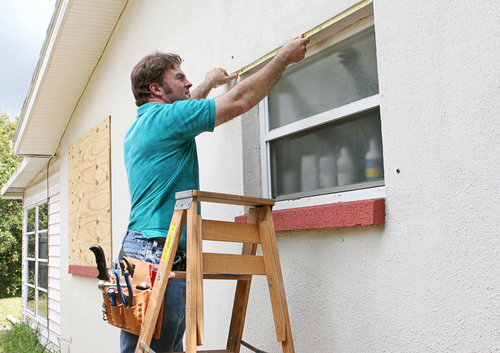 Commercial properties have a responsibility to their community to keep their property hurricane-ready as well. In addition to the tips for hurricane preparedness at home, here are four more ways to prepare your business location:
Train workers of what to do if a hurricane hits, and how to ensure customer safety
Designate contact people for the business to organize closures and evacuations
Add sandbags to storefronts, and board up glass windows and doors
Clear street gutters of debris
What Supplies Do You Need To Prepare For A Hurricane?
Choosing the proper supplies is key to hurricane preparedness. To start, non-perishable foods that don't require cooking are the best choices for hurricane preparedness. Find some information on those foods from the CDC.
Hurricane kits include the supplies needed to hunker down for a few days, or take with you to an emergency shelter. FEMA has a great list of what you need in your hurricane preparedness kit.
What Should You Not Do During A Hurricane?
Don't ride it out when evacuations are called for – follow those directions. In addition, here are common mistakes people make when severe weather is threatening:
Leaving pets behind
Huddling near windows and doors
Opening windows and doors
Using gas-powered lanterns
And, of course, not having a hurricane preparedness kit is a major mistake.
Learn More With Perrier Esquerré Contractors 
Perrier Esquerré Contractors is a general contractor in Louisiana with years of experience preparing for the Gulf South's unpredictable weather. We can help you get started on your hurricane preparedness or to put your property back together after a disaster. Get in touch today!