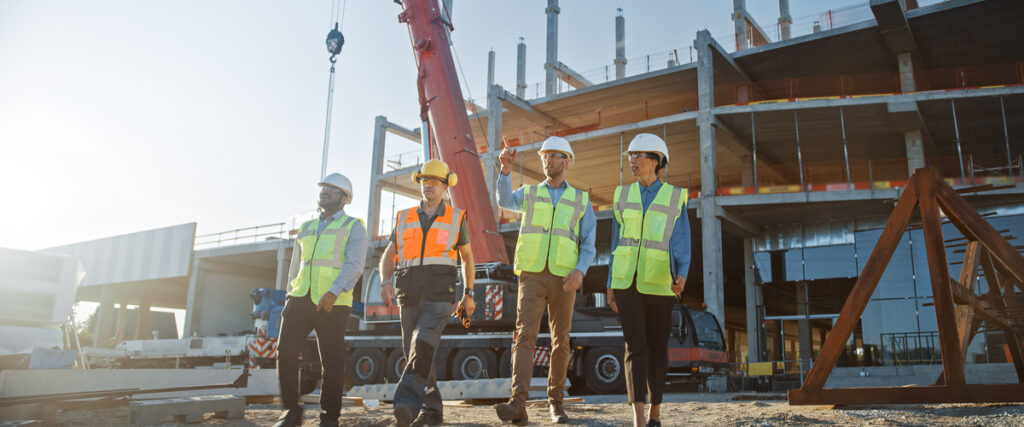 New project managers (and business owners) might feel overwhelmed when considering the commercial construction process. Perrier Esquerré Contractors in Louisiana is here to help you make sense of it. Check out our quick overview of the commercial construction process, from start to finish. Have more questions? Reach out to our team!
How long does it take to build a commercial building?
The commercial construction process is not always linear. Between permits and delays (even for projects that otherwise run like clockwork), it can be hard to pinpoint exactly how long it takes to build a commercial building.
In general, the commercial construction process usually takes between four and six months for buildings of around 10,000 square feet. If your project begins to creep closer to the 50,000 square foot mark, add a couple of months onto that estimate.
For really massive commercial construction projects—like malls, airports, and hotels—you're looking at a full year or much more.
What is the process of building a commercial building?
While there is some variation between projects, the commercial construction process generally follows six steps:
Development and planning
Pre-design
Design
Pre-construction
Construction
Post-construction
Let's look at each in more detail.
Step 1. Development and planning
Development and planning includes everything from finding the right location to setting a budget. If you already own a property and are just looking to fine-tune your budget, most commercial building contractors can help you focus. They will have a better idea of costs for your area.
Step 2. Pre-design
The pre-design phase might be where you bring in your architects to rough out the space and to determine what will fit into your budget (and what might need to go). You'll determine the orientation of your building and figure out which utilities are in place (and what you'll need to add).
In this phase, you'll also work out contracts, divide your budget into phases of construction, and begin to solicit bids from general contractors. Working with a design-build firm like Perrier Esquerré Contractors can streamline this step for you.
Step 3. Design
If pre-design gave you an idea of your project, this step is where plans become detailed and official. Not only will official blueprints be drawn, but you'll also start to bring in various engineers for their specialized work.
These may include mechanical, structural, electrical, and civil engineers.
Step 4. Pre-construction
This is where plans are submitted for permits and approval. Additionally, you'll obtain insurance for your project and begin soliciting bids from other contractors. In this step, you'll also assign a project manager and a superintendent who will work onsite. This stage also sets the final timeline for construction.
Procurement happens here, too—your commercial general contractor will generally order all materials needed for your project.
Step 5. Construction
Finally, construction can begin! The ground is prepared first. Depending on your site, you may have to:
Remove any vegetation
Excavate the area
Ensure proper drainage
Install utilities (power, water, disposal)
Build temporary buildings for the project management team and storage
You'll also schedule inspections well ahead of time, based on your pre-construction plans.
The construction process itself usually begins with the foundation and ends with the last shovel of mulch placed on your custom landscaping.
Step 6. Post-construction
Post-construction includes a walk-through and a punch list. Your punch list is the last series of tasks that need to completed or modified. These are most often minor details.
Final inspections are completed during this step, and your building will be issued an official inspection and occupancy certificate from your local advisory board.
Work with Perrier Esquerré Contractors
A smooth commercial construction process depends on good communication and local know-how. Perrier Esquerré Contractors is a commercial general contractor in Louisiana. Our projects range from small modifications to full commercial design-builds.
Our approach is to deliver the highest quality work, on time and on budget, so you can get your business up and running.
Get in touch today to discuss your project!