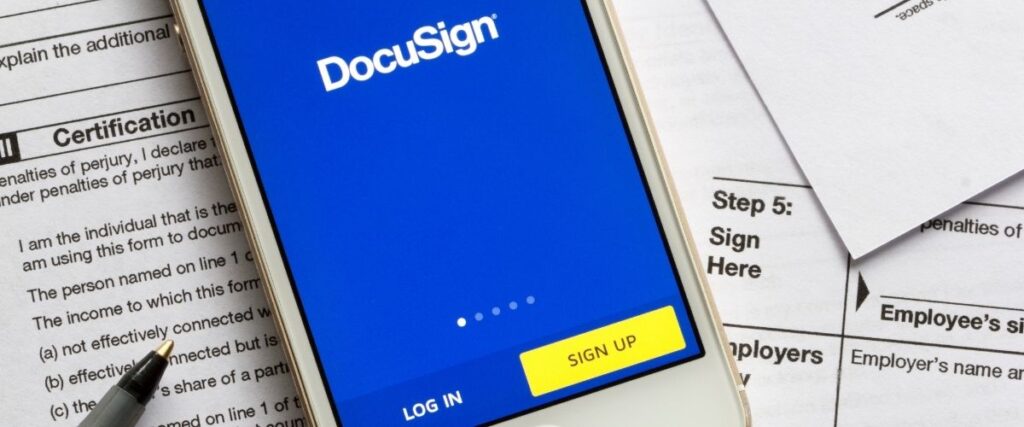 If you struggle with getting signed documents back, or you simply want to streamline project management and speed up paperwork, DocuSign for construction can help. Here's what you need to know.
What Is DocuSign?
DocuSign is a digital transaction management tool that enables you to collect legally binding signatures electronically. This tool allows you to skip the old-school tools of printing, signing, scanning, or faxing documents.
More than 40,000 new customers across the globe are choosing DocuSign for their legal documents every day. This tool allows businesses to safely collect signatures that are verified and stored online for future reference for as long as you need them.
One of the best features of DocuSign is its convenience. Your clients, subcontractors, and suppliers can securely access important documents to sign on any device, anywhere they are.
Can building contracts be signed electronically?
Contracts are one of the main uses of DocuSign for construction. More than 9,000 construction firms choose DocuSign for their building contracts, saving almost $40 per contract.
In addition to helping to onboard subcontractors and finalize details with suppliers, DocuSign can also:
Speed up change order authorizations
Bring clarity and convenience to clients
Cover both project management needs and accounting requirements
How Does DocuSign For Construction Work?
So how does DocuSign for construction work?
Commercial contractors can coordinate all aspects of a project using DocuSign. For companies used to emailing contracts to customers and suppliers and then waiting for a wet signature in the mail (or returned by hand), DocuSign can speed up this process.
The ability to send out subcontractor agreements electronically also helps keep projects on track to keep your clients happy. When the inevitable change in plans occurs, it's easy to amend the subcontract and email it back out, too.
DocuSign reduces your costs while making sure that your company is protected and your projects are on time. Project documents are transparent and easy to keep track of, an especially important feature for long-term or large projects.
How To Set Up DocuSign For Construction
Getting started with DocuSign is simple. DocuSign offers a 30-day free trial that can easily be converted into a full license. When you're ready to select a plan, click the upgrade button from your account and you're ready to go.
Here are some of the most frequently asked questions about DocuSign for construction:
What plans are available?
There are a variety of DocuSign plans ranging from personal accounts to collect a handful of signatures a month to enterprise plans that cover businesses on a global scale.
What documents can be signed?
Almost anything that needs a legal signature can be signed with DocuSign, including:
Contracts
Lien waivers
Purchase orders
Employment agreements
Change orders
Are signatures safe?
DocuSign is ISO 27001 certified as an information security management system (ISMS) – the only company to achieve this rating for secure, encrypted, tamper-proof signatures.
Does a signer need a DocuSign account?
This is a common concern, but the answer is simple. Although you need an account to send out documents, those signing do not need an account.
Is DocuSign for construction hard to install?
There is no training required and no hardware to install. Simply download DocuSign to get started.
Learn More With Perrier Esquerré Contractors
Perrier Esquerré Contractors is a general contractor in Louisiana who uses DocuSign for our construction projects. We believe our embrace of technologies like these is one of the things that sets us apart from other contractors in our area. Our goal is to successfully guide your project – big or small – from conception to completion, on time and on budget.
Get in touch to find out how we can use DocuSign to make your residential or commercial project happen!